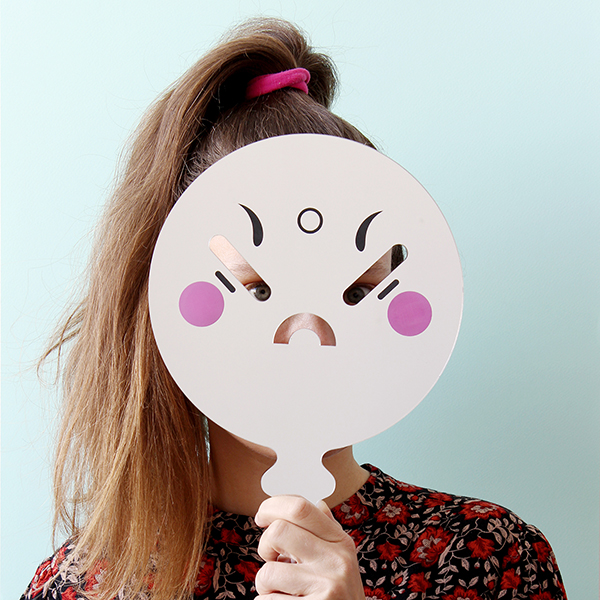 Former architect, former people pleaser, former good girl.
Free spirit, feminist, life lover.

* * *

Dorothée Vantorre is a French artist born in 1981 in Calais, France. Passionate about creation, drawing and modeling, from the age of six she scours craft fairs with her mother to sell her first creations (labour laws were different, or more easily ignored, at the time).

As a child, Dorothée devours her doctor father's medical journals, which may explains her unhealthy fascination with strange diseases and parasites. After making the usual plasticine snails in kindergarten, Dorothée goes on exploring modeling clay by creating an anatomical model to practice operating on human bodies, and a jaw to practice treating cavities. She could have become a surgeon or a serial killer, but fortunately for her fellow humans, she chooses art as her medium of expression.

After being the artist of her class in elementary and middle school, a confusing experience with the visual arts course in high school leaves her with mixed feelings, and she ends up spending more time in her bedroom satisfy her reading addiction than attending lessons. Despite her lack of attendance, she obtains her bachelor's degree, which allows her to fly away.

Finally back to better feelings towards education, after hesitating between architecture, jewelry and applied arts, Dorothée pursues studies in art history and architecture, in Lille and Rome, and later lives in Madrid and Brussels. She learns Italian and Spanish, but not Flemish (the language of her ancestors), to her regret. Maybe someday ?

After obtaining her degree in architecture, she works briefly for an architecture studio in Calais, which enables her to realize that working for a boss AND the building industry are not her thing, after all.

From 2011 she decides to devote herself entirely to creation, and writes a book: "Monstres et Figurines en pâte polymère", to teach modeling to beginners. Writing is not the most lucrative business, especially in the field of crafts, but the writing of this book allows Dorothée to lay the foundations of her current work, with the first appearance of characters in her work. The book has sold out, been reissued, and today you may be able to find it second-hand.

In 2012, Dorothée founds the non-profit Made in Calais alongside three designers from Calais, in order to promote local creative and craft professionals, and organizes numerous events in various places in Calais in the following years. This experience allows her to make beautiful encounters. It is also in 2012 that Dorothée's characters evolve and that her first more elaborate creatures are born, heralding her strange and poetic universe to come.

In 2013, Dorothée, who does not wear jewelry and is not interested in fashion, logically founds a jewelry brand: Les Folles Marquises, for which she imagines, designs and manufactures various types of jewelry, first in polymer clay, then in wood and acrylic, with the technique of laser engraving. All this in order to monopolize all her time and prevent her from indulging in her creative madness.

Dorothée nevertheless has a blast imagining hundreds of jewelry prototypes (when she has a crazy idea, she goes all the way) but hates mass production and soliciting retailers, so her clientele, although international, remains quite confidential, and its points of sale rather rare (but nevertheless include the exclusive Calaisian boutiques of Le Dragon and La jolie tribu, and over the years contacts in Spain, New Caledonia, Canada and Belgium, Italy, Norway...).

Despite Dorothée's efforts to devote as little time as possible to her true calling, she is spotted by Barbara Canepa, who invites her to participate in a collective exhibition alongside her idols (Benjamin Lacombe, Isabelle Mazzanti, Sefora Pons, Clément Lefèvre, Amélie Fléchais, Camilla d'Errico, Marietta Ren…). The exhibition paying tribute to the cartoon End, published by Métamorphoses editions, took place in 2014 at the Arludik gallery in Paris.

This could have been a great start, but suffering from paralyzing impostor symptom, Dorothée stops sculpting. She then explores drawing and continues to search for her style, particularly with Posca markers.

Dorothée makes one substandard sculpture in 2015. In 2016 not much happens either.

In 2017, Made in Calais, which has built a reputation for seriousness and high standards in a few years, settles its workshops in the former art school of the city, thanks to the support of the city of Calais. The building, renamed Anima, houses various associations coexisting in a joyful effervescence. Dorothée sets up her jewelry workshop there. Sinking into denial, she even creates a second jewelry brand, S.U.M.S.

In 2018, Dorothée resumes sculpting occasionally. From 2019, living between Calais and Brussels, Dorothée, tired to be perpetually frustrated and unhappy, finally decides to prioritize art. Four of her sculptures are selected for the collective exhibition Dentelle Etc. at the museum Cité de la Dentelle et de la Mode de Calais.

In 2020, this change of direction is accelerated by the lockdown and the inability to produce jewelry, due to lack of access to the workshop. The first half of the year is artistically very productive: Dorothée spends time drawing, modeling and developing her style. Dorothée's sculptures begin to be noticed and published in several international reviews.

At the same time, 2020 is punctuated by personal dramas. Her maternal grandmother dies in the spring. Shortly after, exhausted from fighting adversity, Dorothée leaves her partner and her Brussels sculpture studio. She returns to Calais but the return is harsh. In September, she loses a friend, then her father.

After her father's death, Dorothée is shaken to the point of not knowing who she is. She slowly rebuilts herself through art, in particular with a project of one work per day for a year: a series of colorful cutlery decorated with Posca markers. This earns her recognition from the Japanese brand and leads to collaborate with it on several projects.

The year ends on a positive note (finally): Dorothée moved into her dream studio, finally spacious enough to allow her to give free rein to her imagination.

In 2021 Dorothée passes the torch of Made in Calais to a new team, in order to devote herself to her artistic career. Since 2022, Dorothée focuses on sculpture, although she continues to sell her jewelry worldwide on her website.
2023 is yet to be written.

* * *

Dorothée Vantorre's creatures are inspired by nature: animals, plants, body fragments, and strange diseases. They represent hybrid beings, resulting from mutations following an ecological catastrophe occurring in the near or distant future.

Her sculptures are mainly in polymer clay, but she likes to experiment with different materials: needle-felted wool, wood, papier-mâché, plaster…, and techniques: markers, paint, stencil, colored pencils, etc.